Okay, so new guys on several forums have been buzzing lately about the Super Step Side Truck build they're doing on Speed TV's kit car show. Older guys here probably remember I used to have the build on the Member's Rides section that seems to have mysteriously vanished on our site here.
Rather than answer a bunch of questions or try to find individual pic.s I rummaged back through my build file and tried to put these pic.s in order with some description of what I was doing. For those of you that have never heard of this build you can go see what the trucks are all about at
www.superstepside.com
and look at different builds. Especially check out the galleries and showcases there.
Basically what you're doing here is cutting the body in half just behind the front door pillars and adding a complete new front clipl, rear clip, and rockers.
Follow along...
Here's your basic 1990 Chevy Capric Brougham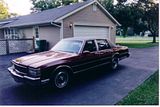 Next a little "guttin" before the "cuttin"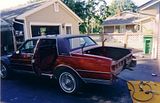 And just how much fun is a good sawzall?
First test fit on the new rear clip...
And now test fit on the front clip...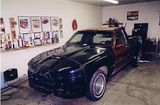 Bonding, filling, and blocking out the top mating surfaces.
Working out the molding flash seams on the front nose.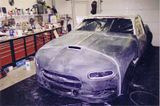 Truck with 90% of body work done and sealed in epoxy. Now road testing for about 8 months looking for stress cracks...
Still in epoxy but hey, new wheels came in...
Road testing all done, final body work finished up, first coat of Auto Air Dark Sealer...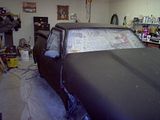 Next Auto Air coarse aluminum was applied with Auto Air Candy Apple Red over top...
And finally after a ton of clear, cut, buff, etc...